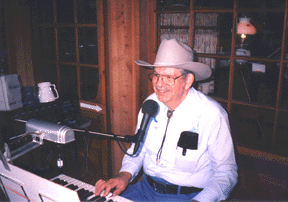 My Country Connections
Index of hundreds of Native American Sites
A Tribute To Roy Rogers
Top 100 Classic Country Songs
Country Chats available
Used CD's
Music Ratings & Top Hits
Bluegrass information
Country Fan Site
Country Music
Guitar lessongs, Jams, etc.
Country Station in San Diego, Ca.
Music City News Magazine
Nashville information
Words to songs, etc.
Sheet Music Available
CD or Cassette Club
BMI Artists and Titles
Suzy's personal site
Concert information
Bluegrass Music, Etc.
THE KOUNTRY KORNER
Welcome to the Kountry Korner. Here you will find some useful items that I hope will help to keep the Country Music Classics alive. From time to time I will be posting words to some of the older songs and if anyone wants to submit songs, that's great. Maybe you have a request. All songs submitted must be done by hand and not photo copied. Just send them along in an E-Mail and add any chording that would be beneficial. This site is just as much yours as mine, so please feel free to send me any ideas you may have to improve upon it. I hope you find the many links of country music as beneficial. If you find any that are not listed, please let me know and I will include them. Please enjoy the site and don't forget. Y'all come back, Y'Hear?
I grew up in a Musical Family. At the age of five I was singing on the radio in Northern Maine, where my Dad had his own Country Radio Show. Dad and Family were called "The Aroostook Lumberjacks." During the 60's and 70's my brother Buck and me had our own Country Dance Band playing in New England. Our band was called "The Country Four."We were the House Band at the Lone Star Ranch in Reeds Ferry, New Hampshire and we were fortunate enough to have been able to back up such great country stars as Connie Smith; Jeannie Shepard, Charlie Walker, Billy Walker and many others. I have since moved to Southern California where I am still playing the old Country Classics.I go by the name "The Musicman." I play in the Temecula, Murrieta, Lake Elsinore area, so if you ever happen to hear me playing, come by and say hello. I have been playing professionally for thirty-two years now, and I've enjoyed every minute of it.I'm available for bookings and you can contact me at: rip@dconn.com or at : (909) 677-8303
My ICQ # is: 5470590
I would like to leave you with the words to one of my favorite all time Gospel songs. This was written & recorded by Jimmy Davis.
SUPPER TIME
When I was but a boy in days of childhood
I used to play till evening shadows come
then winding down an old familiar pathway
I heard my mother call at set of sun

(chorus)
come home, come home it's supper time
the shadows lengthen so fast
come home, come home it's supper time
I'm going home at last

one day beside her bedside I was kneeling
and angels wings were winnowing the air
she heard the call for suppertime in heaven
and now I know she's waiting for me there

in visions now I see her standing yonder
and her familiar voice I hear again
the banquest table's ready up in heaven
it's suppertime upon the Golden Throne


This page has been visited
times.